SaaS stands for 'Software as a Service. Essentially, SaaS marketing is a way to introduce a product to the market, position the product, and build awareness for SaaS organizations.
As a startup, SaaS content marketing strategies will give you an edge over competitors. The reason is the awareness, usage, and implementation of SaaS strategies. According to a survey, around 63% of businesses do not have a documented content marketing strategy. As experts at leading digital marketing company will tell you that most brands do not invest in brand journalism and hence do not have a proper layout of timebound business objectives.
So, as per the stats, around 37% of the businesses are into SaaS. This may appear to be a small amount, but it isn't. Brands have already started using SaaS to increase their reach and are already enjoying the fruits. Still, it's not late as most of them are inactive, and you have a chance to outweigh them in the future.
Let's discuss SaaS content marketing strategies in detail so you can clearly understand the concept.
What is SaaS in simple words?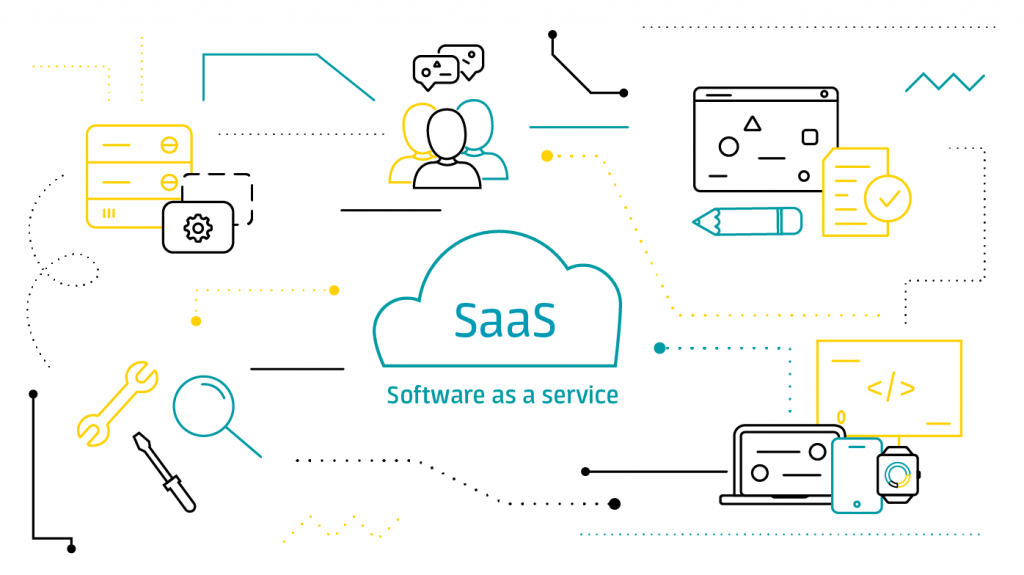 As quoted above, SaaS stands for 'Software as a Service. SaaS is similar to any other business. SaaS software is a product; that can be bought or sold. Support quality is one of the customers' most important factors when choosing SaaS providers. Consequently, SaaS marketing is responsible for selling the product itself and the support that goes along with it. One sells only a product/service in a business, but marketing services and technology are crucial in SaaS.
Why do SaaS companies have a different content marketing approach?
Reasons SaaS companies prefer a different content marketing approach:
The first reason is simple; SaaS companies are selling technology and service, requiring a different marketing approach.
SaaS buyers are primarily digital users hence they checkout digital channels and reviews before buying. Hence, they even have to give importance to 'Digital Marketing' and 'Search Engine Optimization.
The prime focus of the brands is to generate repeated business; hence they must educate prospects and address customer risk. A two-way approach is required for the same.
Best SaaS Content Marketing Strategies for Your Startup
Identify Your Target Audience
As experts at leading digital marketing company will tell you that when developing a content marketing strategy for a SaaS company, the focus should be on reaching leads who aren't already interested in the business, and that usually means producing educational content that can reach a relevant audience.
You may create a checklist of some questions about your buyers to define your target audience. Examples: Buyer's age & gender? Their monthly income? Is your buyer a consumer or a business itself? And more.
Identify The Triggers
As soon as you identify your audience, you can identify the pain points that drive their purchasing decisions.
The best way to identify the triggers of your market is to walk yourself through their experience and the steps they take to become customers.
These trigger points will vary by audience, industry, and other variables.
Set up campaign goals and decide what metrics you want to track
Campaign goals must be decided before executing any strategy. This gives us a clear picture of the path and makes us aware of any hurdles/difficulties.
Also, it would be best if you look forward to specific marketing metrics like the average lifetime value of each unique visitor, percent of visitor who is new and returning, sign-ups per visitor, and more.
Research For Appropriate Keywords
SEO can prove to be a game-changer for any SaaS business. Keywords are a crucial component of SEO. Hence proper research must be done before choosing appropriate keywords.
Your content can be tailored to address your customers' needs at each stage of their journey by identifying keyword terms that represent each stage.
In addition to promoting more effective marketing and sales, this can also improve customer satisfaction and retention.
Properly Analyze Your Competitors
Competitors are present in each field out there. Properly analyzing their activities will help one to plan accordingly. As experts at a leading digital marketing company will tell you that One may keep an eye on where your direct competitors appear in their backlinks and which keywords, platforms, and topics they target.
All this data, along with a clear marketing strategy, is a sure-shot way to overtake your competitors.
Develop a Production Strategy
The following steps must be kept in mind while designing the perfect production strategy:
Identify your target audience and shortlist topics and keywords accordingly.
Maintain a content planning calendar to sustain productivity.
Hire content creation specialists to amplify your sales
Have a word with your content creators and explain to them about your audience and your expectations from them.
Create a proper publication schedule to keep your audience engaged with your content.
A Proper Distribution Approach Is Required
Your distribution approach can make or break your whole content marketing strategy. Keep a check on the following points:
The platform where you will be publishing your content
Will your content be publicly available?
Decide on social media profiles and influencers to promote your services.
Are you willing for partnerships and guest blogs?
Result Monitoring & Tweaking 
This is one of the most crucial steps. If result monitoring is not done correctly, then all the efforts done by the team during SaaS content marketing will go in vain.
Analyze your results and try segregating the positives and negatives. Stay consistent with the positives and act immediately on the loopholes so that profits can be increased and sustained in the long run.
One tweak some strategies or make some considerable changes as per the requirement.
Bottomline
Regarding content marketing for SaaS, strategic goals come before metrics, cumulative growth comes first, campaign goals are used as the foundation, diverse audiences and carefully chosen keywords are targeted, a contact list is built, and a rigorous production process is followed.
Improved lead generation, conversions, and profits are possible with SaaS content marketing; hence brands must focus on it to increase their reach and profits. if you like this blog check out our previous blog who will rule in 2022:.NET vs. React Native?
---
This is a guest blog. If you want to write for us or share your guest blog, Click Here