In a short time, social media has become an integral part of our daily lives. Social media was created to keep in touch with family and friends. Still, it quickly became a way for businesses and brands to reach their target audience via well-crafted social marketing strategies.
Many social media trends have evolved and emerged over time due to the medium's rapid growth. Businesses can stay ahead of fierce competition by adapting to new and emerging trends. It is not an exaggeration to say that most people spend much of their time on social media in today's world.
People's daily lives now include social media in a significant way. Some people are so dependent on social media that they log on right away after waking up every morning. The top social media marketing company understands how to utilize it effectively and how to apply the right marketing plan to get the most out of it.
Social Media Trends of 2022 and Ahead
Social media is a key component of consumers' lives. As a result, marketers and companies are swarming to social media sites to communicate with their clients. Social media is saturated with material, and the market is fiercely competitive. With a clear strategy for social media marketing, it can be easier to stand out. By keeping up with social media trends, you can support your plan and set yourself apart from the competition.
For more information on these trends, here are some significant social media trends to keep an eye on for 2022 and beyond. Explore the brilliant social media packages in Mumbai
1. TikTok will be huge
.
Although Instagram remains a favourite, TikTok has been rising in popularity. TikTok will be a popular platform for short-form video content in 2022, which is why it's the perfect platform. TikTok also launched several valuable tools, such as ads and business profiles, over the past two years.  These tools are aimed at businesses. It's more than just a stage for aspiring artists to perform dance routines. It's poised to be one of the most important platforms for brands to reach millennials and Gen Z.
2. Smaller networks will be more common for advertisements.
One of the many sites grabbing customers' interest is TikTok. The popularity of Snapchat and Pinterest is also rising. According to data provided by Pinterest Business, the platform's ads can produce a return on investment that is twice as high as that of other social media platforms.
Although Snapchat isn't as popular as Instagram and Facebook for marketing, Snapchat advertising statistics show that Snapchat's potential advertising audience has grown significantly. Visit the best social media marketing company in Singapore. Brands must consider alternative platforms in addition to Apple's declaration in 2022 that it would restrict Facebook's ability to target specific user groups.
3. Social Commerce will continue to expand
.
Brands have long used social media sites like Instagram, Pinterest, and Facebook to sell their products. However, in 2022, it will be common to purchase products directly through social media. Innovative brands will no longer use it.
It is predicted that by 2025, the social commerce industry will be worth $80 million. Social media platforms are developing rapidly to become retail platforms. In 2022, marketers and brands will continue to use these platforms and integrate social commerce into their sales strategies.
This is why, even if it only applies to your most well-liked products, you should think about your user experience when designing it. Make it simple for people to shop. Switching to a website while browsing social media may soon be too much for your target audience. Let a top digital marketing company help you develop your social media marketing.
4. The main objective is to find new audiences.
Research has shown that marketers' top social media goals in 2022 are to reach new audiences and build customer relationships. Prior to now, these objectives were concentrated on boosting sales and product promotion. Social media is predicted to alter how brands use it in the future. Instead of being utilised for advertising, it will now be used to develop stronger relationships with customers.
5. One of the most widely used formats of content is video.
One of the most widely used formats of content is still video. A Cisco study found that by 2022 82% of all internet content will be video. This demonstrates how crucial the use of video content is for maintaining relevancy on social media.
You should be creating videos if you still need to. A top social media marketing company believes that videos will be the dominant social media medium in the near future. Anyone who is unaware of this will have difficulty. 
For the future, it is important to remember that there are better options than long-form content. The popularity of apps like Stories, Reels, TikTok, and TikTok makes it clear that users favour short-form films.
6. Social Audio will be more popular
.
The popularity of it has increased since Clubhouse debuted in 2020. Facebook launched its podcasts and Live Audio Rooms in June 2021. Brands are paying attention. A 2022 Social Media Trends Survey revealed that 74% of respondents plan to invest in audio-only content over the next year. Hosting an audio stream as a thought leader was a common tactic, according to the same survey.
Despite this, smaller companies haven't yet paid attention to the trend, in part because it isn't the most economical type of content marketing. There is still considerable work to be done in the creation of audio content, even though it may merely be audio clips. 
Choose the most appropriate social media packages in Mumbai, suitable for your brand.
7. Paid advertising will become a necessity
.
Hootsuite's 2022 Social Media Trends Survey found that 40% of respondents said declining organic reach and the need for more paid advertising were their most significant challenges. Given that a Facebook post has an average organic reach of just a little more than 5%, paid advertising will likely be required.
8. Augmented reality will become more mainstream
.
Technology like augmented Reality (AR) and virtual reality (VR) will become more widely used in social media. As these platforms evolve, these technologies will enable consumers to have better experiences and be more engaged.
An outstanding social media marketing company in Singapore states that although VR adoption in social media is still at an early stage of development, AR has already been adopted. Augmented reality filters are used on a lot of popular platforms, such as Instagram and Snapchat. These filters were developed to enhance social media's visual content.
By incorporating digital components and altering how things appear, augmented reality can improve our perception of reality. Social media sites have recently used this technology in innovative ways. Instagram's numerous photo filters are made using augmented reality.
Most likely, you've seen the filters that give your eyes makeup, sunglasses, or even bunny ears. There are too many of these posts. It's a straightforward use of augmented reality in social networking.
AR is more than just a platform for exchanging tales and photographs. Brands can use augmented reality to offer better shopping experiences for their customers. For brands, augmented reality is growing in popularity so that buyers may try things before buying. Check out the unique digital marketing company in India.
There are numerous potential social media uses for augmented reality for brands. This trend will only be further driven by the ongoing efforts of social media platforms to add AR functionality. Over the ensuing years, this technology will only continue to advance.
9. Influencer marketing will continue to rise
.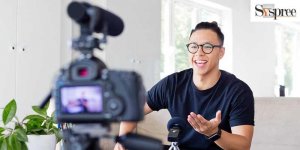 Although influencer marketing isn't a new trend, it will be around for a while. Today, social media is dominated by influencers who get paid astronomical amounts to promote brands.
The adoption of this trend is evident in both parties. There is a rise in influencers on social networks and an increase in influencer marketing spending by businesses. Influencer marketing is more affordable than executing sponsored ad campaigns, and it still produces excellent results. Influencers can also help marketers reach many marketing goals, not just generate leads. It is so well-liked for these two factors, which are only getting stronger.
Marketers work with more than one influencer now. They also collaborate with many smaller, relevant and niche influencers. This kind of influencer is less expensive and more engaging. This strategy will be more prevalent in the future, and marketers will work with smaller influencers than one celebrity. The difficult part will be identifying the influencers who are most compatible with your brand.
10. Use of social media for customer service has increased
Social media has been used by people to exchange messages, photographs, and videos. These days, though, social media is far more than they were. It now functions as a buying platform, a platform for finding products, and a route for customer support. Many brands recognize social media networks as a platform for customer service.
This change happened gradually as businesses realised that more and more consumers were contacting them on social media. This can be as a result of a lack of reaction on other platforms or just because it was a direct method of contacting brands. This is not shocking considering how brands started to respond to these signals and point customers in the right direction.
If you skip ahead a few years, imagine the volume of these encounters grows enormously. These interactions are not limited to when customers post questions and complaints on social media. Brands respond.
It has grown to be a significant customer service channel that brands recognize as such. It is also one of the most important channels for customer service due to the enormous repercussions of poorly handling customers in front of others. It is, therefore, crucial for brands to manage these customers well.
Making FAQ templates might be useful for helping you use social media in new ways. You could also invest in a chatbot to increase your response time.
11. The popularity of User-generated Content will continue to grow
.
Brands using user-generated content are still popular even though it isn't a new trend. The speed at which marketers are utilising UGC is the only thing that has altered. Customers are encouraged to create content and tag it with their brand to be included on the pages of companies like Daniel Wellington.
Airbnb is one example of a brand that entirely relies on user-generated content to create social media content. UGC ought to be a component of your content mix, regardless of how you use it. Unlike branded content, UGC is free and regarded as being more genuine.
This content can enhance your brand's reputation and image. It's time to experiment with user-generated content on your social media accounts if you haven't already.
12. More brands will incorporate social listening
.
Businesses can use social media to gather insightful information and statistics to assist them to refine their social media strategy. Anyone can now obtain this information thanks to the introduction of numerous social listening tools.
Social listening is now a vital part of every marketer's strategy. You can listen in on social media chats and gain insightful knowledge this way. Hootsuite's 2022 Social Media Trends Survey revealed that most respondents believed that social listening had increased the value of their company in the last year.
Marketers and brands are using it for many purposes. Social media campaigns' effects as well as consumer perceptions of various brands can both be understood through social listening. Social listening has become integral to social media marketing strategies for most marketers.
You have many options for social media listening. Introduce brand mentions and branded hashtags into your experiments.
13. The popularity of Instagram and Twitter will not be lost
.
Although TikTok has received much attention, smaller channels such as Snapchat and Pinterest have been criticized. However, Instagram and Twitter will remain the same in 2022.
Conclusion:
These are just a few top social media trends that have been dominant in 2022. By utilising these trends, you can stay ahead of the game. The emergence of TikTok, short-form video content, and other new features are among the most anticipated innovations. However, Instagram and Twitter will remain significant, especially for B2B companies. If you enjoyed this one, take a look at the previous blog on The 9 Essential Steps of an SEO Audit, in One Comprehensive List.