LinkedIn is rapidly becoming among the top well-known and efficient platforms for marketing via digital channels. With over 700 million members worldwide, LinkedIn is an ideal platform for entrepreneurs, companies, and marketers to connect and interact with potential customers and industry leaders. 
A leading digital marketing company states that if you're not using LinkedIn for marketing via digital channels and marketing, you're missing an opportunity to expand your reach, grow your brand and achieve your targets.
In this blog post, we'll talk about 10 LinkedIn hacks that will aid you in dominating LinkedIn and making your digital marketing successful and beginning; to use LinkedIn hacks to optimize your LinkedIn profile, make use of LinkedIn Ads, monitor your performance, and stay current regarding the top practices. 
Key takeaways
LinkedIn has been recognized as an effective digital marketing platform with more than 700 million active users worldwide.

Optimizing your LinkedIn profile is an excellent way of creating the best first impression for potential clients and industry professionals.

Using LinkedIn groups can assist in connecting with other like-minded people working in the field, sharing content, and establishing connections.

Sharing and creating high-quality content is crucial to the success of digital marketing on LinkedIn. Knowing your

target audience

, choosing the best format, and using appropriate keywords are essential to creating compelling content.

Being active on LinkedIn, engaging with the LinkedIn network, and adding benefits to it can aid in building relationships and expanding your business. Making use of LinkedIn advertisements can aid in identifying the right audience and reaching potential customers.
8 LinkedIn Hacks to Digital Marketing Domination:
The LinkedIn hacks can help you expand your reach, grow your network, and reach your marketing goals. So, with no further delay now, let's look at these 8 LinkedIn hacks to dominate digital marketing.
Hack #1 Improve Your Profile
An excellent profile is one of the essential LinkedIn hacks. The profile you create on LinkedIn is your online storefront. Get the help of a brilliant social media marketing company to improve your LinkedIn Profile. LinkedIn Profile is your online storefront, your first exposure to prospective customers and professionals in the field.
Choose a professional profile photo:
The profile picture will be the first thing users will see on the appearance of your LinkedIn account, which is why you should pick one that is professional and high-quality. Ensure that your face is visible in the profile photo. You should also dress in a way that represents your profession.
Write a Compelling Headline:
The headline you write is a short description of your profile that appears alongside your username on LinkedIn. Utilize this space to present your identity and the things you do convincingly and enticingly. Be sure it's easy to read and includes keywords relevant to your field.
Write a storytelling summary: 
Your summary should present your professional tale concisely and clearly. Utilize bullet points and short paragraphs to highlight your accomplishments in terms of skills, experience, and knowledge. Include relevant keywords to your field to help potential clients and partners locate you.
Make Your Skill Stand Out and Accreditations: 
Make sure you showcase your abilities and have your colleagues support your skills. This will allow your profile to be noticed and give potential customers and employers a perception of your capabilities and experience.
Include Relevant Work Experience: 
Include every relevant experience in your work, including your job title, responsibilities, and achievements. This will allow you to be found in search results that include relevant keywords. It will also show potential customers and partners what value you provide.
Hack #2: Leverage LinkedIn Groups
LinkedIn Groups are one of the top LinkedIn hacks to connect with other similar-minded people in your industry or a specific field.
Find and join relevant LinkedIn Groups: 
You can search for groups that match your field or area of expertise. Join groups that are active and have an extensive membership base. This can help you get more connections and increase your exposure.
Participate in discussions: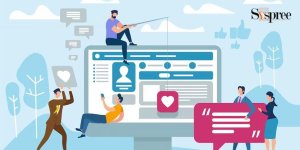 After joining an organization, begin participating in discussions. Contribute your knowledge, respond to questions, and contribute something of value to the group. This will allow you to build your reputation as an expert and help build confidence with prospective customers.
Share Your Content LinkedIn Groups: 
Sharing your content on LinkedIn Groups is an excellent way to publish your information, be it a blog entry, article, or video. Send your content to members of the Group, but remember to include a call to action that encourages people to connect with you or go to your site. To get high-quality content, get in touch with the most creative content marketing company in India.
Connect with group members: 
As you join in discussions and post your content, You'll establish connections with others in the group. Send them a personal connection request. Remember to follow up with an email to introduce yourself and begin an exchange.
Hack #3: Create and share high-quality Content
Content is king. Producing high-quality and interactive content is one of the crucial LinkedIn hacks for success with digital marketing on LinkedIn.
Understanding Your Audience: 
To create content resonating with your audience's needs, it is essential to know their issues, pain points, and objectives. Utilize this knowledge to create content that is valuable and solves their issues.
Select the correct format: 
LinkedIn offers a range of formats for content, such as images, text, videos, and documents. Select the appropriate style for the content you're posting, and ensure it's visually attractive and accessible for readers to comprehend.
Utilize Relevant Keywords: 
Include relevant keywords in your content to boost the visibility of your content in search results. This will allow you to attract more readers and increase engagement. Let Singapore's best digital marketing agency help you with your keyword analysis.
Post your posts on LinkedIn as well as on different social platforms. Use pertinent hashtags, tags, and hashtags to expand the reach of your content and draw more viewers. Content Optimization is essential for social media platforms. 
Track the performance of your content and then analyze your outcomes. Utilize this information to improve your method and create more efficient content.
Hack #4: Get Engaged in Your Network 
Connecting to the members of your LinkedIn network is vital to creating relationships and growing your company's profile.
When you connect with your networks, be genuine and authentic. Engage with other people's opinions, and ask them questions. This helps you establish trust and build long-lasting relationships.
Contribute to the value of your connections by sharing your insights, resources, and potential. This will allow you to make yourself known as an authority in the field and increase your credibility.
Personalize your messages:
When you reach out to new customers or industry leaders, personalize your messages. Make sure to mention something specific about their work or profile to demonstrate that you've completed your homework.
Hack #5: Make use of LinkedIn Ads
Making use of LinkedIn Ads is one of the best LinkedIn hacks. They enable you to focus on specific groups and reach potential customers wherever they are.
Different types of LinkedIn ads: 
Types of LinkedIn Ads LinkedIn provides a range of ad formats. These include Sponsored Content and Sponsored InMail and Display ads. Select the one compatible with your goals for your campaign and your target viewers.
Targeting Options LinkedIn allows you to tailor your ads according to various parameters, including the job title, size of the company or size, industry, or location. Utilize the available options to connect with your potential customers and create leads.
Your advertisement content should be informative, attractive, visually appealing, and focused on your audience's needs and goals. Allow a leading digital marketing company to create engaging advertising content. Use simple and clear words, and add calls-to-action that stimulates clicks and converts.
Think about where you'd like your ads to appear on LinkedIn. There are mobile and desktop placements and specific locations on LinkedIn, like your LinkedIn feed or group.
Set the budget for your advertisement campaign and select the bidding strategy that aligns with your objectives. Review your results and adjust your bidding and budget according to the need.
Hack #6: Track and measure your performance
To maximize your online marketing success on LinkedIn, it is crucial to keep track of and evaluate your performance.
Determine the most important metrics for your business, like clicks, impressions, leads, and conversions. This will help you concentrate on your goals and make better data-based decisions.
Utilize LinkedIn Insights to gain insight: 
Use LinkedIn Insights to monitor your performance and gain data on your target audience, content, and advertising campaigns. This will allow you to refine your strategy and improve your performance.
Keep track of the return on investment (ROI) on your LinkedIn marketing initiatives on the internet. Use this information to justify your spending and alter your strategy if needed. 
Testing Your A/B Campaigns: 
Try different versions of your campaign, like ads, content, and bidding. This will allow you to determine the best approach and help optimize your outcomes as time passes. An excellent social media marketing company can guide you about A/B Testing.
Hack #7: Integrate Video Content
Video content or video marketing is becoming more crucial in digital marketing, and LinkedIn isn't an exception.
Choose the Best Type of Video Content: 
Select the kind of video that aligns with your objectives and is a hit with your intended viewers. This might include product demonstrations, testimonials, interviews, or even thought leadership material.
Keep your video content brief and concise. LinkedIn recommends keeping videos to less than three minutes to increase engagement.
Optimize your Video to be suitable for LinkedIn by adding subtitles, a simple call to action, and a striking thumbnail. Make use of LinkedIn's native upload function to achieve the best results.
Share your videos on your LinkedIn network as well as the other platforms on social media. Think about creating LinkedIn Ads campaigns to increase the reach and engagement of your content.
Hack 8: Keep Current on the Latest Practices and the latest trends
In the ever-changing field of digital marketing, it is one of the essential LinkedIn hacks to keep up-to-date with the most recent developments and the best methods. A brilliant content marketing company in India shares some ideas as follows.
Follow Influencers and Industry Leaders on LinkedIn:
LinkedIn is filled with influencers and industry leaders who regularly share valuable information about their respective fields. If you follow them, you'll be updated on the latest developments and the best methods in your industry.
Join LinkedIn Groups LinkedIn Groups
LinkedIn Groups are an excellent opportunity to network with other professionals who share your interests and keep up-to-date with your field's latest trends and news. Joining groups relevant to your company and gaining meaningful insights and suggestions from fellow professionals in your industry.
Try and learn from Your Data.
While learning from others is crucial, it's equally essential to learn and experiment with your own experiences. When you track your business's performance on LinkedIn and experiment with different strategies, you'll learn valuable information about what is most effective for your company.
Why LinkedIn hacks are critical in Digital Marketing Domination
LinkedIn hacks are crucial for achieving digital marketing domination because LinkedIn is one of the most powerful social media platforms for businesses and professionals. It offers a unique opportunity to connect with other professionals, showcase your brand, and build valuable relationships. 
The best digital marketing agency in Singapore believes that by leveraging LinkedIn hacks, businesses can tap into the platform's vast network to generate leads, build brand awareness, and establish themselves as industry leaders. These LinkedIn hacks include optimizing your LinkedIn profile, crafting engaging content, leveraging LinkedIn groups, using LinkedIn ads, and more. 
With the right LinkedIn hacks and tactics, businesses can gain a competitive advantage and reach a broader audience on LinkedIn, ultimately achieving digital marketing domination in their respective industries.
Conclusion:
In conclusion, these eight LinkedIn hacks will help you maximize your reach and achieve your digital marketing goals. Optimizing your profile, engaging with your audience, and utilizing LinkedIn's advertising features can dominate your industry and establish your brand as a thought leader. So, start implementing these hacks today and watch your LinkedIn presence soar. If you liked this blog post, check out the one before it on Gated Content: 10 Must-Know Insider Strategies to Get More Leads and Engagement.